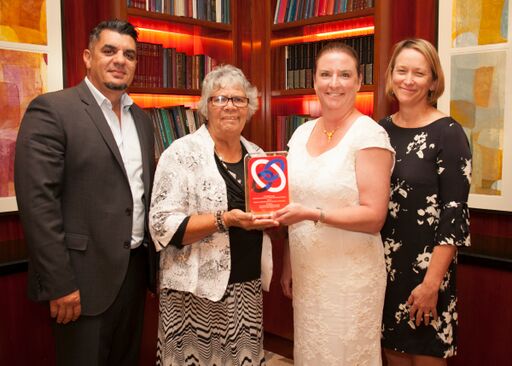 A partnership between The University of Queensland and the Institute for Urban Indigenous Health (IUIH) has led to an award-wining program designed to address Indigenous health disadvantage.
The Indigenous Health Education and Workforce Development partnership took out the Award for Outstanding Collaboration in Higher Education and Training at the Business Higher Education Round Table (BHERT) Awards.
By placing staff and students in Indigenous health care facilities, the program aims to develop a generation of health professionals familiar with the challenges of Indigenous health.
Faculty of Medicine's Dr Leanne Coombe said the award recognised the hard work of UQ and IUIH staff.
"It's validation of the outstanding innovation and true partnership between UQ and IUIH," Dr Coombe said.
"The Indigenous Health Education and Workforce Development partnership began in 2010 and fosters active interaction with Aboriginal and Torres Strait Islander peoples and their communities.
"The result is that we're creating real change by developing a culturally responsive health workforce to close the gap in Indigenous health across South East Queensland."
The BHERT Awards recognise outstanding collaboration among Australian universities and the industry sector, and act as a barometer of industry-university collaboration.
BHERT CEO Dr Peter Binks praised the UQ-IUIH Program.
"Our judging panel singled out the UQ-IUIH partnership for its impressive, well-integrated educational experience, building the types of placements that change student and patient lives, and its extraordinary impact. 
"The working relationship between the University and the Institute, and the focus on the needs of the community, is outstanding."
The UQ-IUIH partnership has been expanded with philanthropic support from Greg Poche and Kay van Norton Poche through the UQ Poche Centre for Indigenous Health.
Annual student placements have grown from 30 students across 3 disciplines to over 350 students across 20 disciplines in 2017.
IUIH is the largest Aboriginal community-controlled, health organisation in Australia and is the largest employer of Aboriginal and Torres Strait Islander people in South East Queensland.
Media: Faculty of Medicine Communications, med.media@uq.edu.au, +61 7 3365 5118.