The University of Queensland Centre for Clinical Research has been formally recognised by Dementia Australia as working towards becoming a Dementia-Friendly organisation.
It's the first research centre in Australia to submit an action plan to Dementia Australia's Dementia-Friendly Communities program and gain formal recognition for their commitment to work towards becoming dementia-friendly. 
UQCCR Acting Director Associate Professor Judith Greer said this acknowledgment was important for the centre and its researchers.
"We are committed to making our facilities dementia-friendly to enable inclusivity for every individual in our broader research community," Dr Greer said.
"It says that people living with dementia are valued here, and their vital role in our work is acknowledged through this initiative."
The Dementia-Friendly Communities program aims to remove the stigma, isolation and discrimination experienced by many people living with dementia.
Dementia Australia CEO Maree McCabe AM said a Dementia-Friendly Organisation made changes to better meet the needs of people living with dementia, was inclusive and friendly, and recognised people living with dementia as equal members of the community.
"I thank everyone who has contributed to the development of The University of Queensland Centre for Clinical Research's Dementia-Friendly Communities action plan," Ms McCabe said.
"I acknowledge the Centre for everything it is doing to improve the lives of people of all ages living with all forms of dementia, their families and carers."
Nearly half a million Australians are currently living with dementia, and with that figure expected to exceed one million by 2058, the need for dementia research will rapidly increase.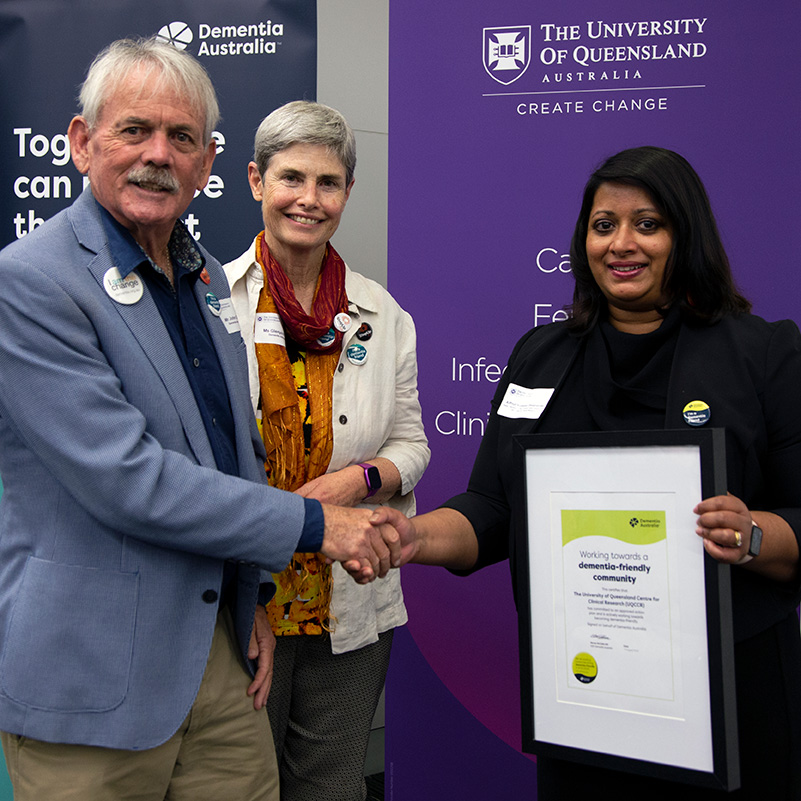 UQCCR's Dementia and Neuro Mental Health Research Unit, led by Associate Professor Nadeeka Dissanayaka, facilitates clinical research programs in dementia focused on both prevention and care.
"We are researching ways to improve mental health care for people living with dementia attending hospitals, living in the community and living in aged care," Dr Dissanayaka.
"Our recent successful funding, including Dementia Australia grant schemes, will allow us to test technologically advanced solutions to reduce anxiety, depression, and delirium, and to develop a novel tool to benchmark the residential age care industry."
UQCCR brings together leading health professionals, clinicians and scientists from around the globe to facilitate innovation and knowledge translation.
Find out about some of the studies currently have underway. Alternatively, learn more about consumer and community involvement in research at UQCCR.